Steakhouse Steak Knives For Your Home
If you've ever admired restaurant steak knives, and thought "I need some knives like these, but they must be really expensive," you're partly right. 
A high end jumbo steak knife set from a restaurant supply company isn't cheap, but restaurants purchase them wholesale, in bulk.

Through patience and research though, we've found some very high quality, (and dare I say-) cheap steak knife sets (even jumbo steak knives) that'll remind you of the steakhouse experience without breaking the bank!
(image above: Cangshan S Series)
Choosing Your Steak Knives
What should you look for when purchasing a steak knife set?  Of course you want sharp steak knives, but other than that, is there really much of a difference between one steak knife and another?
You bet there is.
The quality of your steak knife and its various specifications will affect the way it cuts your meat, how long it stays sharp, your ability to sharpen it yourself, how long it will remain rust-free, the best way to care for it, and how well it will stand up to regular use.
Blade – Straight or Serrated?
The type of blade, straight or serrated, makes a big difference in how the knife will cut through your steak.

You may already know that a straight blade is best for cutting fruit and vegetables and that a serrated blade is preferable for crusty breads. What you may be asking yourself now is, "What's best for a steak or other types of meat?"
Straight-edged steak knives are best if you like your steak rare to medium rare.
The straight-edge creates the cleanest cuts of cooked meats, and will ensure all the flavorful juices stay inside the meat. These knives use the best steel, so they'll stay sharp for longer. However, as with all straight-edged knives, you will need to sharpen these from time to time.
Serrated steak knives are better if you like your steak well done.
Unlike a straight-edge, a serrated knife will tear meat fibers, spilling flavorful juices and drying out the meat. However, because the serrations protect the cutting edge (which is between the pointed teeth), these knives will rarely, if ever, need sharpening. Because of this, they can get away with lower quality steel that's easier on the wallet.
Blade and Handle Composition
The two major types of blade material are are high-carbon steel and stainless steel. High-carbon steel is usually preferred by most restaurant and home chefs. High-carbon steel is easier to sharpen than stainless steel and stays sharp for much longer. If you are looking for quality, high-carbon is the way to go.
Keep in mind, though, that high-carbon steel should be hand-washed and dried immediately to prevent staining and rusting.
On the other end of the spectrum, however, stainless steel is much more convenient; it won't rust, and it's fine in your dishwasher.

As for the handle, I prefer steak knives which are fully forged of steel; these knives are seamless, from handle to tip, and made from one single piece of metal.  These knives will never fall apart, and they're a terrific investment.  They also tend to be more expensive, and can be difficult to find.

More commonly, knife handles are made of wood. Wooden handles have a lovely rustic look, and are a popular choice for knife handle material. 
Wooden knife handles can deteriorate over time (and even rot), and should never be soaked or placed in the dishwasher (regardless of what the manufacturer states). 
Length of Tang
If you're not looking at an all-metal knife, you'll find steak knives which combines two types of material – metal and wood or metal and plastic.
In full tang knives, the metal from the blade of the knife runs all the way through to the bottom of the handle. It is secured to the handle with two or three metal rivets.
Knives whose blades only go half-way down the length of the handle (or less) will not be nearly as strong. Placing pressure on them while cutting through meat can slowly bend the blade.
Also, this kind of knife is often held together with only one rivet, making it much more likely to come apart over time.
Quantity
Steak knife sets are normally sold in sets of four or six. Sometimes, you can find larger sets, which include service for ten or twelve.
Always purchase more than what your immediate needs require.  Extra knives will come in handy when you have more guests than usual, and if your needs change, it may be difficult to find the matching knives to purchase more at a later date.
Top Value Steak Knives
Straight Edge
Wüsthof Gourmet
This Wousthof Gourmet 4 Piece Knife Set is offer excellent value for its quality workmanship and materials. 
This straight Edge knife set has a  high-carbon stainless steel blade which has been cut from steel sheets by precision lasers. 
It's not a forged knife, but it's certainly the next best thing: 
The blade and tang are perfectly shaped, with a handle that fits seamlessly 

The high-carbon stainless steel is identical to  that of Wüsthof's more costly professional knives (only slightly thinner)

The blade measures 4 inches, which is ideal for cutting steaks (even the biggest porterhouse) in a home environment. 
The full tang is secured into the handle with three rivets.

These knives are dishwasher safe, but handwashing is preferable, as it will protect the edges.
Fortessa Provençal
This 4 Piece Steak Knife Set from Fortessa Provençal includes four extra long straight edge knives in its own storage box.  
The handle has an attractive traditional dark wood look, which encases a full tang with three rivets. 
The blades are composed of  18/10 stainless steel, so it will retain its shine, while resisting rust and stains.
Fortessa steak knives are very high quality, restaurant style knives, and are found in upper end steak and chop houses throughout America.
These are elegant-looking knives are 9.25 inches, and will look fantastic as part of your place setting, whether casual or formal.
A  6 Piece Provençal Steak Knife Set from Fortessa (without the box) is also available.
They are dishwasher safe, but again, hand washing is preferable.
Dalstrong Gladiator Series
The Gladiator Series 4 Piece Steak Knife Set from Dalstrong is another high quality, hefty steak knife.  Made of high-carbon German steel, these knives offer excellent performance, with a full tang and three rivets.
The knife is 9½ inches long, with a 5 inch razor sharp blade.  Rock-hollow dimples on the blade ensure that the meat falls off the blade.
The luxurious black handle is composed of pakkawood, and each blade comes with a matching protective sheath.
Hand washing is preferable for these knives.
Dalstrong offers a lifetime warranty against manufacturing defects in material and construction, and the knives are guaranteed to perform as advertised.
Serrated Edge
Amazing Ribs
These Professional Steak Knives from Amazing Ribs will be recognized by anyone who has eaten at the best US steakhouses, including Morton's, Peter Luger, Kobe Club, Smith & Wollensky, Palm, and more! 
These are the official steak knives of AmazingRibs.com, a barbecue and grilling website, and they've been endorsed by "Meathead" Goldwyn (author of bestselling "Meathead: The Science of Great Barbecue and Grilling").

These are jumbo sized (9¾ inch) steak knives; the high-carbon stainless steel, full tang blade is 4.75 inches exposed.
The ergonomically designed handle on this restaurant-tough knife is solidly bonded to the blade with three large rivets.
These knives are high-temperature dishwasher safe, rust and stain resistant, and they'll stay shiny without polishing.
The reviews for these knives are excellent, with purchasers uniformly happy with both the performance and value of the set.
One satisfied purchaser reported:
"Like many or most folks here I learned about these knives from AmazingRibs.com. I purchased these because all I had was a cheap set of knives that were old and never quite cut it, so to speak.

After using these a few times I can say that these are the best Steak Knives I've owned yet. The quality has been top notch including the rugged, comfortable, and attractive handles. They make cutting through a steak as easy as cutting through hot butter.

I used these on 3″ Cowboy Steaks and they made the job easy without applying any pressure at all. I highly recommend these knives to anyone."
These knives are high-temperature dishwasher safe, rust and stain resistant, and they'll stay shiny without polishing.  According to the manufacturer and reviewers, these are totally fine in the dishwasher.

French Home
This 4 Piece Steak Knife Set from French Home is made in the famous Laguilole design, which originated in the Southern France town of the same name.  The Laguiole design is defined by the shape of the cutlery and and iconic bee emblem.
This traditional Laguiole set includes 4 fully-tanged, stainless steel steak knives, secured with three rivets on pakkawood handles.
These knives measures 9¼ inches long, and are packaged in an a classy gift box.
These knives do need care to preserve the wood handle and avoid scratches; hand wash only.  This set is also available with a stainless steel handle (shown above).
Lenox
The Lenox Corporation was founded in 1849, and is a is a market leader in quality tabletop, giftware and collectibles.
This 4 Piece Forged Series Piece Steak Knife Set certainly reflects Lenox' high standards.  Made of non staining high-carbon German Stainless Steel, this is a high quality, forged set, with the added security of a lifetime warranty.
The 5 inch serrated blades are taper ground from spine to tip and top to bottom, and finished to a fine edge for optimal blade sharpness and retention.  The handles feature ABS molding for a secure and comfortable grip, with a curved, ergonomic spine for leverage.
The reviews for this set are superb (a perfect rating at the time of publishing).  Purchasers report that these knives are hefty, well-balanced, sharp, comfortable and reasonably priced.
KitchenAid
This 4 Piece Classic Forged Steak Knife Set from KitchenAid is fully forged, full tang, and made of high-carbon Germain stainless steel. 
These knives have been ergonomically engineered and designed for comfort and handle control, and have received excellent ratings from purchasers.
One reviewer on a message board noted that the handle is thinner that what he's used to:

"They are super sharp and the ridges on the knives make the cuts so fast and easy. I like it that it can make thin cuts very nicely. The handle is very slick and thin so handle with care. I'm more used to the bulkier handles, but these just needs getting used to."
They measure 8¾ inches, with a 4 inch knife blade.
These knives have been tested to withstand the toughest dishwasher cycles, and indeed, reviewers have confirmed this; there's really no need to handwash these knives.
They measure 8¾ inches, with a 4 inch knife blade.
These knives have a lifetime limited warranty in the USA and Canada (you can find the full warranty on the KitchenAid website).

Bellemain
This 4 Piece Premium Steak Knife Set from Bellemain are manufactured to surgical grade, and made of stainless steel.
These are full-tanged knives, "designed ergonomically and specifically for steak-eaters."
This knife set has over 900 reviews, with a nearly perfect rating at the time of publishing.
The knife measures 9½ inches, with a 5¼ inch blade, and Bellemain offers a buy-back guarantee to ensure your satisfaction.
One happy purchaser shared:
"Best steak knife I've ever used at home. Glad I ordered two.

Great weight, heavier than the typical knife, but still light enough that it's still just a knife that you don't have to think about and not some object trying to take over the meal.

The one piece metal construction is clean, so no cracks or connections where bits of food or juice can penetrate. The knives are still new for me, and the sharpness is delightful.

Yes, it's a small thing, but what an amazing time we live in when this kind of crafted object arrives at your door in a day or two for a price that so many of us notice barely, if at all."
Good news:  this premium knife set is dishwasher safe, and numerous reviewers have confirmed it.  
These knives measure 9½ inches, with a 5¼ inch blade, and Bellemain ensures your satisfaction with a buy-back guarantee.

Sharpening Tips
It's crucial to keep straight-edged knives sharp so that they cut through food with less slippage. Dull knives are dangerous because a dull blade requires more force to do the job and so has a higher chance of slipping and missing the mark (plus, they're obviously less pleasant to use!).

Sharpening Steel (Honing)
A so-called sharpening steel, the metal rod sold with some high-end knife sets, doesn't really sharpen a knife, but rather it hones the edge of a slightly dulled blade. Sweeping the blade along the steel realigns the edge. Throughout this motion, make sure to maintain a 15-degree angle between the blade and the steel.

Knife Sharpeners
If your knife is quite dull, you'll need to reshape its edge. This requires removing a fair amount of metal—more than you could ever remove with honing.
To restore a very dull knife, you have three choices: You can have it done professionally; you can use a whetstone (tricky for anyone but a professional); or—the most convenient option—you can use an electric or manual sharpener.
Electric Knife Sharpeners
Electric knife sharpeners are very easy to use. With electric sharpeners, the abrasives are on motorized wheels that spin against the blade.
Always follow the manufacturer's instructions. In general: Turn on the sharpener, hold your knife securely but lightly (no need to press down hard; the machine does the work for you), and pull the blade through the desired slots slowly and smoothly. Alternate sides for sharpening both sides of your blade.

The Chef'sChoice XV Trizor Edge is a bestselling electric knife sharpener, popular both on Amazon, and on message boards and forums.  
Pros
Spring-loaded guides restrict the knife's movement so that the entire edge makes steady contact with the abrasive at a precise angle.

The aggressive first slot can quickly repair extensive damage and narrow a 20-degree Western knife to a sharper 15-degree edge.

This sharpener features multiple grinding slots, each with a different coarseness of blade to control the amount of sharpening.
Cons
Cannot be used for knives that sport a full bolster (

thick junction between the handle and the knife blade

), as the entire blade can't be run through the sharpener (creating an unevenly shaped blade).

Relatively expensive.
A more budget-friendly option is the Presto 0800 EverSharp Electric Knife Sharpener. 
The Presto EverSharp is much less expensive than the much-touted Chef'sChoice, and it has great ratings, with nearly 4,000 reviews. 
One satisfied purchaser noted:

"This was a good investment. I read all the directions, practiced on a knife that had not been sharpened for 2 years and was so dull it wouldn't cut paper, just made a dent.

It took several times running it through both sides of sharpening and then honing, but wow. You could shave with it now.

Makes a clean cut on paper and cuts a tomato or onion almost paper thin with no tearing. One of my viewers reported that she has been using an identical one for 5 years with no loss of sharpening quality."
Several reviewers, however, were disappointed, and commented that it didn't have enough power and didn't produce enough sharpness.

The EverSharp's two-stage sharpening system will quickly and easily sharpen your non-serrated blade, and give you the equivalent of professional results.  It creates a razor sharp edge in seconds, using Sapphirite sharpening wheels (the same ultra-hard material used by the professionals).
Manual Knife Sharpeners
With manual sharpeners, the abrasives are either on non-motorized wheels or the abrasive material itself is fashioned into a V-shaped chamber through which the user pulls the knife.
In general, pull the blade through the chamber with even pressure. Always follow the manufacturer's instructions.
The ProntoPro Diamond Hone Manual Knife Sharpener from Chef'sChoice is a professional 3-stage sharpener.  It utilizes an advanced crisscross sharpening technology to deliver an extremely sharp edge by using diamond abrasive wheels, which sharpen simultaneously for a burr-free edge.
There are three slots: Asian; Euro/Amer; and Polishing & Serrated. The first is for 15-deg Asian knives, the second for "Kitchen & Sports Knives 20-deg edge, and the third for "Serrated Knives and Honing Stage," so you can customize the function.
This is a compact and convenient unit, with excellent customer reviews.
You can use this sharpener for all of your knives, including straight edge household and kitchen knives, Santoku, sports and pocket knives, as well as serrated knives.
Sharpening Your Serrated Knife
For sharpening a serrated knife, serrated-specific sharpeners do exist, but reviewers often find them inadequate. And electric sharpeners don't seem to sharpen well enough; their spinning wheels only sharpen the edges and tips of the serrations, not the valleys between the tips.
But that doesn't mean you need to send out your serrated knives to a professional. A manual sharpener can ride up and down the different serrations (pointed, scalloped, and saw toothed), sharpening not only the edges and tips, but the deep valleys too.
As discussed earlier, serrated edges don't need to be sharpened nearly as often as smooth blades: their pointed teeth do most of the work while the edges endure less friction.
The Coffee Mug Hack
Need to sharpen a small knife, but don't own a knife sharpener?
If you find yourself with a dull knife but without a knife sharpener, you can use the un-glazed bottom of a ceramic mug to sharpen small knives.
Applying moderate pressure, hold the knife at a 15-degree angle and carefully draw the entire length of the blade across the rough surface.
Final Thoughts
I hope you've found some useful inspiration for you next steak knife purchase. 
You don't need to spend exorbitant amount on high quality, steakhouse-style steak knives; it's just a matter of shopping around. 
Choose a high quality set, and take care of it –  even a relatively inexpensive set can look terrific, be a pleasure to use, and last you for years to come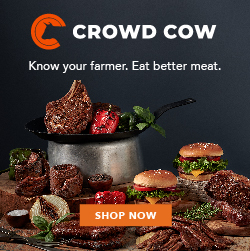 Hey!  Thanks for dropping by …   
I'd love to hear your thoughts – really! 
Drop me a comment below!
What To Read Next: